* Korea Mega Filter for Water - Supreme filtering rate and life-time!

Feature

Model No /Size

Maker

Applicable Machine

Pressure

SODICK

A300,A350,A350W,A500,A500W,A600,A600W,

A750,A750W,A1000W,A500P,A500WP,A600P,

A600WP. AQ Series, AG Series, SL Series

FANUC

Model:O,P,Q,R,S,T,V
Mate:W0,W1,W2,W3
α-0B, α-1B,α-0C,α-1C

KMF-340FK
340X300

MITSUBISHI

CX Series CX10,CX20,CX2. FX Series FX10,FX20,FX30, FX-K, QA, RA, FA, PA, MV, NA

MAKINO

EC-32,EC-64,ECQ-53,U-53,U-32,U-53K,U-32K,

SP43,SP-64
U32i,U52i,U86,UP32i,UP53i,EU64,
UPH-1,UPH-2,UH-2,UPJ-2

HITACHI

CUT-203F2,203R,203Y,254,254RS,
254RH,254Y,355,355R,355RS
355RH,355Y,203M20,203Q20

SEIBU

EW-A5,A5S,C3,C3S,C5S,M350S,M500S,
M750S,EWP-B3S3,

MAseries,MMAseries

KMF-340FKB
340X300

α-0iB, 1iB, 0ice, 1ice, 0icp, 0icp5, 0ic5, 1ic5, 0ic, 1ic

KMF-400FKB
340X340

α-400iA, 600iA
【Directions for the use】
The life-time will be short when the filter is working with non-ferrous metal like as aluminum, copper & cobalt etc.
The reason is that these kind of metals are generating viscouse hydroxide and it causes clogging in the filter and decreases its life-time.
Hard steel alloy, titanium alloy, refractory alloy will generate micro particle during the machining and cause clooging in the filter, short life-time of the filter.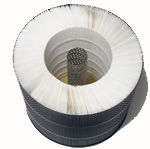 " To get the supreme cutting job,Invest to Korea Mega Filter!"